We rushed to get ready for my appointment this morning, after a night of interrupted sleep (I had leg cramps and Art had a really bad stomach ache). I was so excited to see our baby!
After getting to the appointment I followed the usual routine: pee in a cup, get weighed in, blood pressure check, ask if I have any questions, then wait for the doctor. But I was confused and then disappointed when I realized that the nurse didn't ask me to take off my clothes and put on a gown. Am I not getting an ultrasound today? I could have sworn that my doctor said that I was, he said that we would find out the gender this time. I internally started to panic, PGAL style.
A very nice doctor came in, a different one than my usual doctor because I'm trying to get to know all of them in the practice. She said they were just going to do a doppler check and wouldn't be doing any more ultrasounds from now on unless there was a problem. Art and I were both so disappointed because it wasn't what we had expected.
She put the gel on my stomach and started trying to find the heartbeat. We heard my heartbeat and a loud noise which she said was the baby moving around, but no fast heartbeat of the baby. I was a little worried but the doctor reassured us the whole time that the baby was just hiding from her. Then she made me smile by saying I guess we will just have to do an ultrasound!
It was such a relief to be able to see Sweet Pea again. We could see so much more this time! The legs, kicking bicycle style, and an arm reaching out - we could see all the different bones which was really incredible. Plus the head and face, although the face was hard to make out. Our sweet doctor printed lots of pictures for us, here's one of them: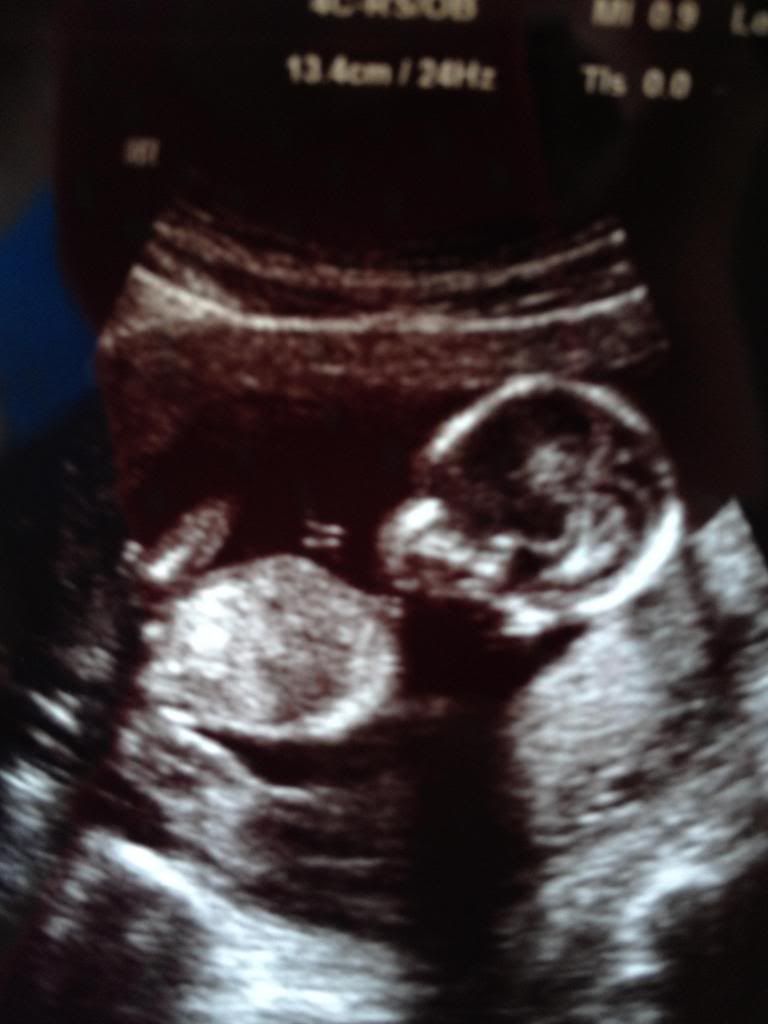 We also scheduled our anatomy scan with the radiology office downstairs from the OB/GYN practice. We were told that it will take about an hour and to go at 18 weeks. Luckily they had appointments open for exactly 18 weeks, Tuesday, February 5th! We can't wait to go and get a longer look at Sweet Pea and see if he/she is a boy or a girl!
Also, here's my 14 week bump picture taken after our date last night.
My baby (+ Mexican food) belly!
So many happy blessings to share! I hope your day is blessed too :)