Wow, the holiday break has flown by! I can hardly believe that tomorrow is New Year's Eve and that I will be back to work in 2 days (ugh!). Ever since getting back home from visiting the in-laws for Christmas we have been extremely busy with trying to unpack our house, going furniture shopping (there are lots of deals right now for the holidays but it's definitely time consuming), plus all the every day stuff like laundry, groceries and cooking to keep up with! Oh yeah, and we got to go to a very beautiful wedding for two of our good friends from church yesterday - what a treat!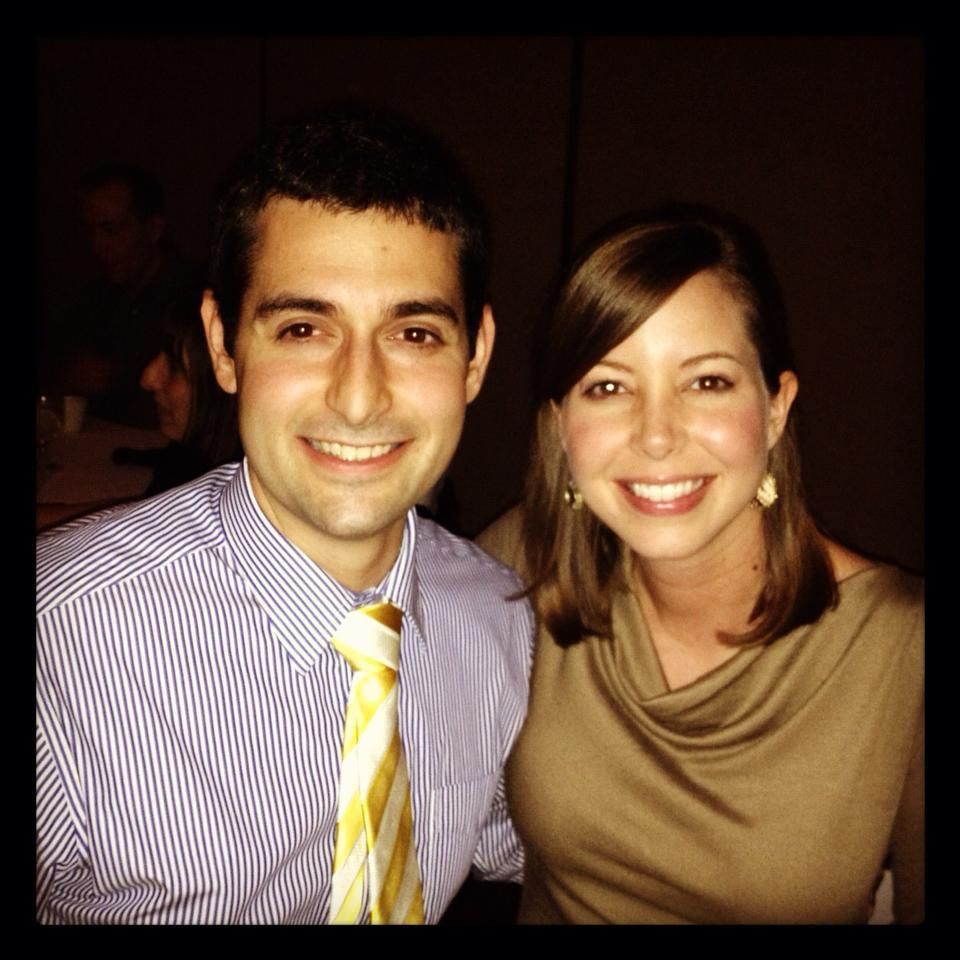 A picture of us at the wedding reception
I will definitely be posting some bump pictures soon but at the moment I just wanted to give a little update before I'm past the 12 week mark...eeeeek!!! I can't believe I'm almost in the second trimester! (And I know, I know, some people say it's when you hit 12 weeks but I'm observing the 40 weeks divided by 3 = 13 weeks 3 days method.) So, here you go:
How big is baby?: Your baby is the size of a plum! The most dramatic development this week: reflexes. Your baby's fingers will soon begin to open and close, his toes will curl, his eye muscles will clench, and his mouth will make sucking movements. In fact, if you prod your abdomen, your baby will squirm in response, although you won't be able to feel it. His intestines, which have grown so fast that they protrude into the umbilical cord, will start to move into his abdominal cavity about now, and his kidneys will begin excreting urine into his bladder. Meanwhile, nerve cells are multiplying rapidly, and in your baby's brain, synapses are forming furiously. His face looks unquestionably human: His eyes have moved from the sides to the front of his head, and his ears are right where they should be.
Any appointments or updates this week?: Nope!
Body changes?: Not really
Maternity clothes?: Not yet, although my sweet family already gave me some Christmas gifts of maternity clothes and a gift card to a maternity store! I also bought some new bras which are helping a lot...as you can see from the picture above I'm more busty these days ;)
Best moment last week?: Spending time with family for Christmas
Food cravings?: Bagels, Pizza, Cheez Its
Symptoms?: The nausea has been going away, now I just get moments when I feel like I need to eat immediately or need to rest but otherwise things are going great.
Exercise?: Art and I went for a walk around his parents' neighborhood once. Once things get back to normal I'm hoping to get back to yoga.
What I miss?: I won't lie, I did miss being able to drink champagne when I was at the wedding and I had a moment when I would have loved a glass of red wine today, but it's all gravy! I'm so grateful to be growing a baby.
What I'm looking forward to?: I'm still really excited about getting to the 2nd tri.
Different this time: I'm going to stop answering this question from now on because at this point I'm in uncharted territory. It's so exciting to see this pregnancy progress like I never have been able to experience before. I feel so blessed.